On November 1st, 2013, I surrendered my company-issued smartphone to the IT Department on my last day as the Director of Test Engineering for F5 Networks. I had the opportunity to buy the phone and keep the number but I decided that after six years of being tethered to my smartphone I was ready for a break.
I no longer needed to check my work e-mail to stay on top of work issues and reply to my boss's questions.  But I also wanted to give up my smartphone because I felt it had become smarter than me.  I found that whenever I had a spare moment I was checking it for status updates on critical projects or defensively checking my e-mail to see what crisis might be brewing.
I decided to do a personal experiment of seeing how long I could go without a smartphone and what I changes I observed.  My experiment was modeled on Noel Perrin's Giving Up the Gun: Japan's Reversion to the Sword 1543-1879, an account of how firearms were brought to Japan by the Portuguese in the 16th century, adopted by the samurai and then rejected because it so disrupted the social order.  The warrior class found it repugnant that decades of mastery in the martial arts by a samurai could be dishonorably defeated by a peasant armed with a rifle shooting from a safe distance.
I decided to go back to my Nokia flip phone for phone calls and text messages and a first-generation iTouch with Wi-Fi in case I needed to access the internet from a public place that offered free Wi-Fi.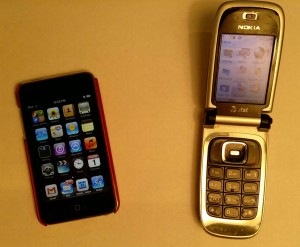 What I quickly discovered that that I wasn't just tethered to my work smartphone–I was ATTACHED to it, physically and psychically.
Moving from a smartphone to a flip phone and an iTouch was like an problem drinker proving he can control his drinking by switching from enjoying several pitchers of beer at the tavern every night with friends to drinking a six-pack at home while watching TV.  My compulsion remained and and I had to willpower to control it.
I found that I would sheepishly be checking my iTouch while waiting in line to place my coffee order at Starbucks (using thier Wi-Fi) along with everyone else who'd be reading their smartphones using their cellular data plans.  While most others paid for their drink by flashing the QR code on their smartphone under the scanner, I'd feel a bit old-fashioned pulling out my wallet and paying with cash.
What was most surprising to me was the physical craving to touch my phone.  At first, I thought it was simply to check that I had it with me since it had a different feel than the smartphone I carried for six years.  But then it became checking to see if it was there when I was waiting for a stop light or some other boredom-inducing moment.
It was as though the smartphone had become part of my body after six years of use.  Was my checking for it and yearning to use it similar to what amputees report when they talk about a "ghost limb?"
Through the winter of 2014, I fought the craving.  There were days when I could feel good that I made it through a grocery store check-out line without checking my flip phone.  I found it helpful to consciously choose to alter my posture from a "smartphone slouch" to standing up straight with my shoulders back. This was also helpful because it forced me to hold my head up high.  I was able to notice other things which took my thoughts away from my smartphone craving.
While the Japanese were able to "give up the gun" for 300 years, I could only give up the smartphone for a year.  The Japanese resistance to the gun was broken when Admiral Perry and the Western powers brought them into the modern world.  My experiment ended in on Cyber-Monday 2014 when I succumbed to an offer too good to be true by buying an unlocked Amazon Fire Phone for $100.  I justified the purchased by rationalizing that it had become too difficult to manage the communications for my new coaching and consulting business with my iTouch and my laptop.
My year-long experiment has taught me that my nervous system had become "paired" to my communications technology.  I'll be writing more about the practices I am developing to use my smartphone sensibly.