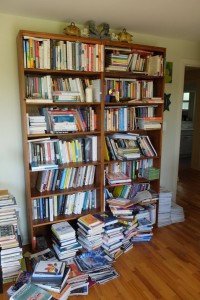 I've decided to clear out my library of books accumulated over the years to make room for new interests. I'm using Jim Benson's Personal Kanban to manage the process and will be retaining those books that I know I want to read or refer to over the next year.
I'd like to find a good home for the trusted advisors I've had great conversations with over the past 30 years. If you know me and my reading habits and would like to adopt some books, please message me to arrange a time to take your pick.  We can do a Skype or Facetime call if you live outside the Puget Sound region.
As they say in those late-night commercials: "Don't Wait!  This is a limited time offer."  Magus Books is coming at the end of the month to buy the books that interest them and the Salvation Army is coming in early June to take the rest.